Pope in South Sudan tells clergy to raise voices against injustice
Pope Francis has told clergy in South Sudan to raise their voices against injustice, on an unprecedented trip to the war-torn country.
Travelling with the heads of the churches in England and Scotland, the group are on a three-day "pilgrimage of peace" to the world's newest nation.
The Archbishop of Canterbury Justin Welby said his "heart breaks with sorrow" over continued violence there.
South Sudan has been wracked by civil war since becoming independent in 2011.
Despite a peace deal in 2018, violence driven by ethnic tensions has continued - more than 400,000 people are thought to have died as a result of the conflict.
At least 20 people were killed in a cattle raid on the eve of the religious leaders' visit.
On the first full day of his visit, Pope Francis met hundreds of South Sudan's religious leaders at the Cathedral of Saint Therese in the capital Juba.
During his address, he urged them not to remain neutral, and instead speak up against "the injustice and the abuses of power that oppress".
"If we want to be pastors who intercede, we cannot remain neutral before the pain caused by acts of injustice and violence. To violate the fundamental rights of any woman or man is an offence against Christ."
Elsewhere in Juba on Saturday, Archbishop Justin Welby said: "My heart breaks, I can hardly speak, with sorrow for South Sudan."
"I beg that at every level, from the president to the smallest child, that people find the mercy of God and are transformed, and that there is peace and good government. That no-one steals money. That no-one kills their neighbour for cattle," he told congregants at the All Saints Anglican Cathedral.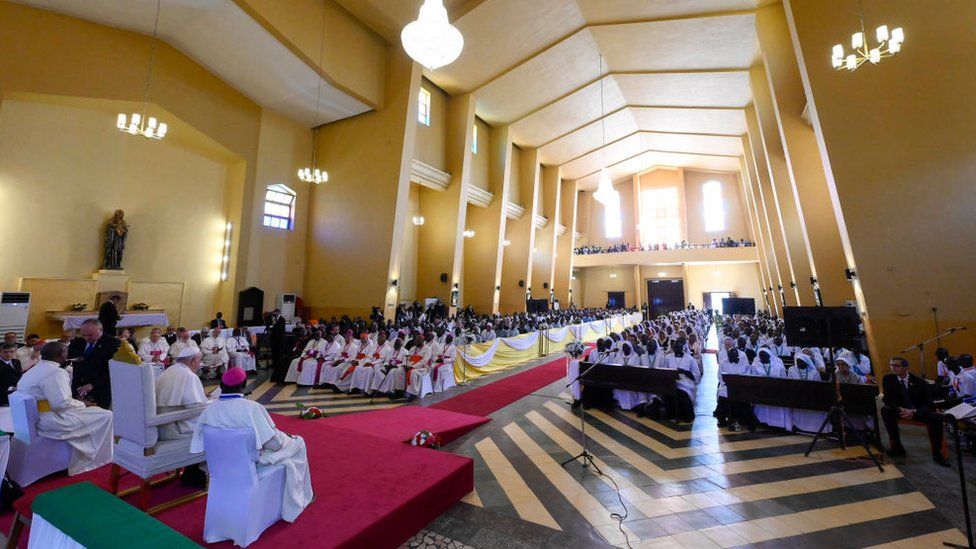 It is Pope Francis' first papal visit to the country.
In 2019, a year after a peace deal failed to stem political and ethnic unrest, Pope Francis shocked many by kissing the feet of South Sudan's bitter political rivals, President Salva Kiir and his deputy Riek Machar, when they met at the Vatican - asking them to respect the terms of the ceasefire.
But the violence has continued - and Pope Francis, Justin Welby and Church of Scotland Moderator Iain Greenshields have been hearing from some of the two million people displaced by the conflict as part of their peace mission. They heard testimonies from displaced children at a meeting in Juba on Saturday, many of whom had been on the run from violence for most of their lives.
According to Reuters, the Pope was told by a nun at the Cathedral of Saint Therese how two of her fellow sisters were killed in an ambush in Juba in 2021.
The three Christian leaders also led thousands of people in a joint prayer on Saturday evening at the mausoleum of John Garang, South Sudan's founding father.
On Sunday, the Pope will celebrate Mass outdoors, which is expected to draw large crowds.